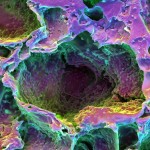 TV, radio and newspapers all over the world got very excited last week reporting that "laser regenerates teeth" following a Harvard study. The study showed that LLLT stimulates the stem cells resident in the tooth pulp to form dentin (for details click below). This is the highest profile announcement for any LLLT paper ever and will add significant awareness and credibility for everyone in the field. Congratulations and huge thanks to the author Dr Praveen Arany B.D.S., M.D.S., M.M.Sc., Ph.D. who is now a Clinical Investigator at NIH.
see reports here NHS, Times of India, BBC, NBC, CBS, Daily Mail
Photoactivation of Endogenous Latent Transforming Growth Factor-beta1 Directs Dental Stem Cell Differentiation for Regeneration.
Arany PR, Cho A, Hunt TD, Sidhu G, Shin K, Hahm E, Huang GX, Weaver J, Chen AC, Padwa BL, Hamblin MR, Barcellos-Hoff MH, Kulkarni AB, J Mooney D
Harvard School of Engineering and Applied Sciences, Cambridge, MA 02138, USA.
Rapid advancements in the field of stem cell biology have led to many current efforts to exploit stem cells as therapeutic agents in regenerative medicine. However, current ex vivo cell manipulations common to most regenerative approaches create a variety of technical and regulatory hurdles to their clinical translation, and even simpler approaches that use exogenous factors to differentiate tissue-resident stem cells carry significant off-target side effects. We show that non-ionizing, low-power laser (LPL) treatment can instead be used as a minimally invasive tool to activate an endogenous latent growth factor complex, transforming growth factor-beta1 (TGF-beta1), that subsequently differentiates host stem cells to promote tissue regeneration. LPL treatment induced reactive oxygen species (ROS) in a dose-dependent manner, which, in turn, activated latent TGF-beta1 (LTGF-beta1) via a specific methionine residue (at position 253 on LAP). Laser-activated TGF-beta1 was capable of differentiating human dental stem cells in vitro. Further, an in vivo pulp capping model in rat teeth demonstrated significant increase in dentin regeneration after LPL treatment. These in vivo effects were abrogated in TGF-beta receptor II (TGF-betaRII) conditional knockout (DSPP(Cre)TGF-betaRII(fl/fl)) mice or when wild-type mice were given a TGF-betaRI inhibitor. These findings indicate a pivotal role for TGF-beta in mediating LPL-induced dental tissue regeneration. More broadly, this work outlines a mechanistic basis for harnessing resident stem cells with a light-activated endogenous cue for clinical regenerative applications.
Sci Transl Med 2014 May 28 6(238) 238ra69
http://www.ncbi.nlm.nih.gov/entrez/query.fcgi?cmd=Retrieve&db=PubMed&dopt=Citation&list_uids=24871130
How does LLLT / cold laser therapy work? click here
How to calculate LLLT dose click here
Get yourself trained click here